Your holiday in Franconia's cosy corner
The rich tradition of the former imperial town, along which important trade routes used to pass, can still be felt in Bad Windsheim today.
The Freilandmuseum, the historic old town or the town museums invite visitors on excursions into the past. There is much to discover on a stroll through the old town with its numerous streets and squares.
Directly next to the old town with its baroque town hall and St. Kilian's Church, the Bad Windsheim spa quarter has grown over the past decades. The first medicinal spring was discovered here over a hundred years ago. Today Bad Windsheim has two natural remedies: brine and healing water.
There are also countless attractive destinations in the immediate vicinity of Bad Windsheim that can be reached in an hour or less: Rothenburg o. d. Tauber, Würzburg, the Romantic Road – to name but a few.
Information about the former Free Imperial City of Bad Windsheim can be found here: www.bad-windsheim.de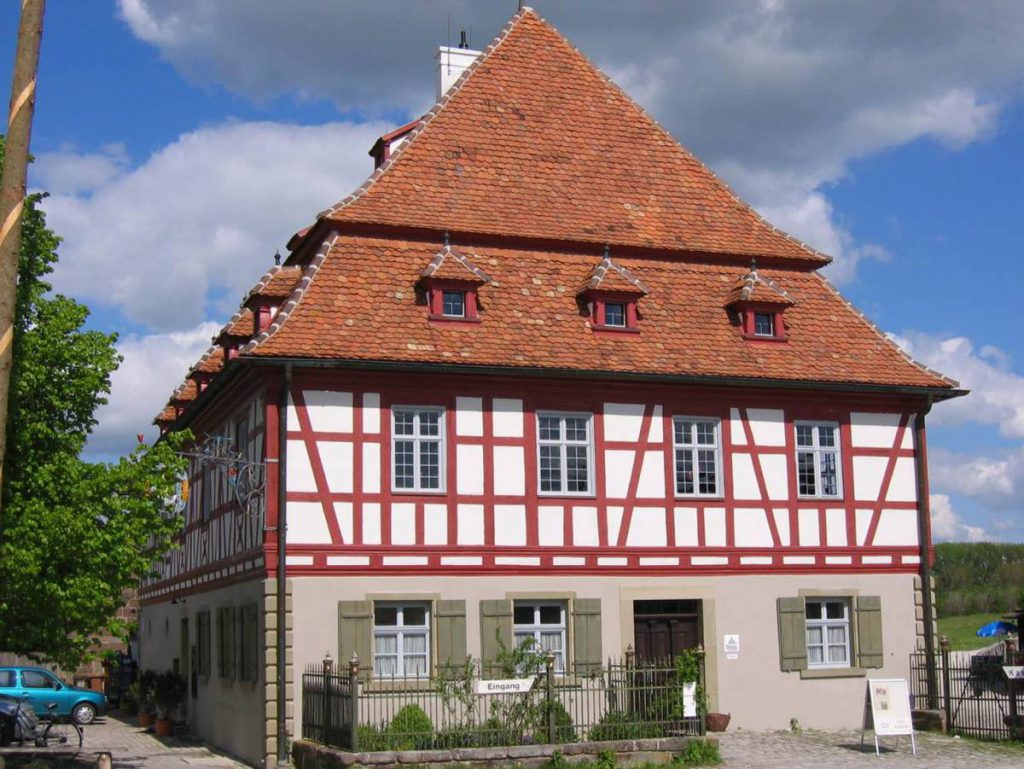 Bad Windsheim - the spa town
For over 100 years now, Bad Windsheim has had three natural spa remedies at its disposal:
natural healing water against internal and metabolic ailments,
brine against skin and joint complaints and
thermal brine for diseases of the musculoskeletal system.
The Frankentherme was opened in December 2005. From the salt lake to the large sauna area and the attractive wellness oasis – guests of the Franconian spa can enjoy numerous services related to health and well-being.
Spa Gardens Bad Windsheim
Relax in the over 30-hectare spa gardens with its imposing chestnut avenue that is over 100 years old. With a listed section of 25.7 hectares, Bad Windsheim's spa gardens is the largest of its kind in Bavaria.
Two spa clinics with a focus on diagnostics
The Kiliani-Klinik is a rehabilitation clinic with special therapy and treatment programmes for neurological, orthopaedic and neuro-oncological diseases.
The Frankenland Klinik, "Bavaria's most modern sanatorium", is a centre for medical rehabilitation, internal medicine, dermatology and orthopaedics.
Bad Windsheim – town of museums
Fränkisches Freilandmuseum
Learn more about the everyday life of the rural population in Franconia up to the late Middle Ages. With more than 80 buildings, the museum is one of the largest institutions of its kind in Germany and Europe.
In the "Reichsstadtmuseum im Ochsenhof", once a granary dating back to 1537, you will find an extensive collection on the folklore of the former free imperial town of Windsheim.
In this museum of a special kind, you will find many agricultural implements, harvesting machines and ploughs in the residential house, as well as furniture, traditional costumes, a cobbler's workshop and much more. The attraction of the Frohsinns-Hof is a tractor exhibition that is unique in Franconia.
Museum "Kirche in Franken"
The first Protestant church museum in Bavaria is located in the Bad Windsheim Spitalkirche.
The Spitalkirche is integrated into the Bad Windsheim Freilandmuseum and contains the "Kirche in Franken" section.